These 6 countries are the clear-cut capitals of freelancing
Featured image by jose aljovin
---
The wonderful thing about the freelance market is that it has no boundaries. A freelancer can live and work anywhere, thanks to tools like email, video chat, and messaging services.
For companies hiring freelancers, having access to a global market means having the ability to find the exact skillset they're looking for, whether that is in marketing, design, business consulting, or programming. It also means they can find more affordable help than they could get in their local markets. Often particular countries are known for certain specialties: in the US, writing and translation freelancers abound, while in India, you can find quality software development and technology expertise at a budget-friendly rate.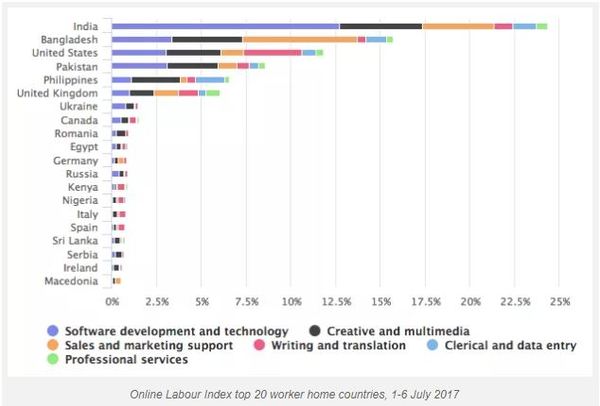 For freelancers, not being bound to one location means they can live wherever life brings them. And if they are able to live somewhere with a lower cost of living, then they can be competitive in what they charge for their services. Often in developing countries, professionals turn to freelancing because they are unable to get hired in a cutthroat job market. Many end up making far more money working how and when they want than they would if they were working for someone else.
Recently, Oxford Internet Institute (OII) published a report on where online workers live. It's interesting to see in which countries most freelancers can be found, as well as which industries thrive in each country.
1. India
It's likely no surprise that 24% of all online workers live in India. With outsourcing being one of the country's main exports, Indian freelancers find they can be competitive globally, due to their high levels of education and technical expertise. In fact, 55% of Indian freelancers work in software development or technology.
Due to the large workforce in India, the competition for each open position can be particularly high. Many Indian professionals find that freelancing not only provides a way to supplement a regular paycheck but that it even can replace one.  Its impact on the economy in India can't be ignored: freelancing contributes $400 billion to the gross domestic product.
Freelancing serves an important role for two demographics in particular in India: women and retired professionals. Enabling the balance of work and traditional home life, many women can generate sufficient revenue for themselves through freelancing. Retired professionals, who may still need financial resources, can work as much or as little as they want, leveraging their years of work experience without the high pressure of an ever-evolving workforce.
2. Bangladesh
Just behind India is Bangladesh, which is home to 16% of the global freelance population. Freelancers in Bangladesh tend to work in sales and marketing support, creative and multimedia, software development and technology.
From the freelancer perspective, outsourced work provides financial security and independence for many who would have no other path to the same earning potential. With the average wage in Bangladesh at around $60/month, freelancing opens up doors to much higher earnings.
3. United States
While the U.S. doesn't have quite the freelance population of India or Bangladesh, there still are a significant number of freelancers. There are, in fact, about 55 million freelancers in the US, which is around 35% of the American workforce.
The unique aspect for American freelancers is that many choose to moonlight outside of their 9-to-5 jobs. Not all rely on freelancing as their primary source of income. In the US, the freelance market is split fairly evenly among software development and technology, creative and multimedia, and writing and translation.
Freelancers get paid by their global clients easily with Payoneer
4. Pakistan
Number four on the freelancing industry report is Pakistan. Because many higher education institutes in Pakistan focus on computer science and software engineering, there is a glut of recent graduates that find it challenging to find full-time work. And so, they turn to freelancing, generating a whopping $1 billion this year alone.
5. Philippines
Not to be left out of the freelancing party, the Philippines trails Pakistan at around 6% of the global freelance population. Not only is an oversaturated job market leading more people to freelance, but also major traffic problems in urban cities, where the white collar jobs are, makes getting to work stressful. Freelancing, on the other hand, allows Filipinos to work from home with no commute. Quezon City, Manila City, and Cebu City have the highest concentration of freelancers and—no surprise here—some of the worst traffic. Manila has actually been ranked as having the worst traffic in the world.
Ranked as one of the best English-speaking countries in Asia, many Filipino freelancers specialize in content writing, customer service, and technical support. With solid English skills, the Filipino market is appealing to companies in need of English-speaking freelancers the world over.
6. United Kingdom
Coming in at number 6 on the list is the UK. By far, the United Kingdom has the market on the professional services freelancing industries, including accounting, legal services, and business consulting. In fact, the UK dominates, garnering 22% of the professional services category. Creative and multimedia skills are also in demand.
Freelancing has become an appealing career option straight out of university for 87% of students with first or second class degrees. In fact, 29% of all graduates say freelancing is part of their career strategy in the five years following completion of their degrees.
It seems confidence in the UK freelance market has waned since Brexit (which may have done its own part in boosting the number of freelancers in an unsteady job market), at least from the freelance perspective, due in part to government constraints and taxation on freelancers. However, changes are afoot to provide a freelancer-friendly tax system that would put the freelance market on the upswing again in the UK.
Asia still in the lead
Asia by far dominates the freelance market globally. With affordable labor and a highly-skilled and technical workforce, Asian countries have made a name for themselves with companies all over the world.
This list shows that freelancers fill every corner of the globe. For companies in need of freelance assistance, there's a reason to consider each of the six countries on this list. For the freelancers who live in each country, the freelance market can only become more prosperous as global countries expand their freelance workforce.
Freelancers, get payments from sites like Upwork, Fiverr, 99designs and others with Payoneer